Welcome to Englewood Park
ENGLEWOOD PARK POLL DORSETS TOTALLY COMMITTED TO THE PRIME LAMB INDUSTRY
Englewood Park is a 600 hectare property situated at Inverleigh in Western Victoria. The Barwon River boarders one half of the property providing sandy loam river flats, well sheltered red gum trees. We have been breeding quality Poll Dorset's for over 53 years as well as joining our Poll Dorset Rams to 1st X ewes.
At Englewood Park our aim has always been to produce rams that are true Dorset type and have plenty of length while maintaining balance with good muscle and dense downs wool. Rams that will sire prime lambs to meet any market specification you would like in the quickest possible time. This enables you to have the ability to target the best price per kilogram being offered and maximise your returns.
All rams are visually appraised for structural soundness and then Stockscan Performance Assessed to give us Growth and Fat measurements but also most important of all Eye Muscle Area Measurements. This is a tool to assist you in your selection of rams in your endeavours to produce the perfect carcases.
Our rams are OJD vaccinated and accredited Ovine Brucellosis free.
Each year our showing program is exhibiting a team of rams and ewes at the Bendigo ASBA show and Ballarat Sheep Show in July, Hamilton Sheepvention in August, Australasian Dorset Championships in September and Royal Geelong Show in October.
As well as the show ring and carcase competitions we have a very commercial focus and use our Prime Lamb Enterprise to prove the genetic value of our rams. Joining 1300 1st X ewes with their sucker lambs sold over the hooks as trade lambs to Safeway, M.C. Herd and Coles, and export lambs sold to ALC and Castricum Brothers.
Over the last 10 years 14,236 lambs have been hooked at an average weight of 21.4kg dress weight.
The following graph shows the fat score results of these lambs.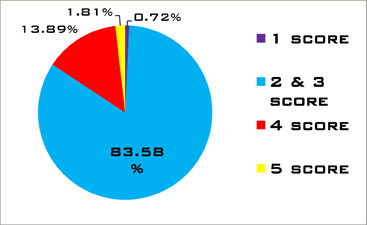 Over this period approximately 85% of our lambs have been sold over the hooks. The other 15% have been sold through the market at Ballarat Sale Yards when the market price has been better than the hook prices offered.
Our rams have been sold all over Victoria and Southern New South Wales. Current buyers have experienced great success breeding with our rams, and often topping lamb markets around the states. We provide free delivery of our rams to any major selling centre. Please feel free to inspect our rams at any time or attend our On Property Production Sale.
Geoff Oliver